BiosCreator v2.1.20 - (International Version)
₱6,000.00
BiosExtractor let you create a stock firmware in LESS THAN 1 MINUTE without you having to learn and the complicated stuff of bios editing.
Repair those hard to fix "no power", "no display" and "auto shutdown" issues;)
Downloaded dump bios does not seems to work? Frustrated because it's so difficult to get the bin file out of the bios update utilities from manufacturer websites?  BiosExtractor highlights ease of use.  All operations are done via drag and drop.  
Need additional information? You can visit/join LeakyMosfet Discord Server or contact us via FB Message.
**NOTE TO DOMESTIC CUSTOMERS**
For customers in the Philippines, you should buy at this link.

**IMPORTANT**
Please note that the purchase of BiosCreator License is final and strictly no refunds! If you are unsure, download and try the trial version and explore the features first to evaluate if it satisfies your requirement. If you do not like this policy, then please do not purchase this software. Software licenses are non-refundable, regardless of the reasons.
Download Resources:
Installation Guide:
Download the user guide and BiosCreator application.
Follow the setup wizard. 
Additional Note:
Existing  BiosCreator v2.0 users may purchase upgrade version to use BiosCreator v2.1.20.
Youtube Videos
Version History
Last Updated - 8/9/2023
---
BiosExtractor supports Acer, HP, Lenovo, Apple, Asus, Dell, Toshiba, Sony VAIO
PROBLEMS THAT BIOSEXTRACTOR HELPS YOU FIX
NO POWER, NO DISPLAY, AUTO OFF, BATTERY NOT DETECTED, AUTO-RESTART, KEYBOARD NOT DETECTED, HDD NOT DETECTED, SLOW PERFORMANCE, etc.
Perpetual License
BiosCreator comes with perpetual license and 1 year free upgrade. Use as often as you want.
Backed by LeakyMosfet Support
We have your back! Contact us for support assistance through messenger or support forum at https://support.leakymosfet.com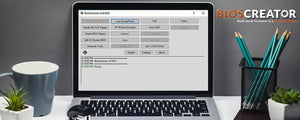 What our customers say about BiosCreator