How to use POST Code feature of SVOD to troubleshoot "No Display" issue in laptop motherboard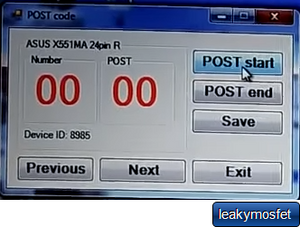 Don't you know that SOVD3 can be used to read power-on self test (POST) code for various laptop motherboards?  POST code when interpreted correctly provides an information why a laptop does not display properly.
SVOD3 is an indispensable tool for helping you fix any "no display" issues in laptop motherboard.  Here is a quick-quide how to use it in Asus x551MA:
Open SVOD3 Software
Select Setup-> Post Code Read
A dialog will popup asking you to select motherboard. Click OK and select Setup -> Select the motherboard. 
A dialog will appear where you can choose your motherboard, double-click the motherboard you want in the list.
Another dialog will appear, telling you to make sure the motherboard GND is connected to the programmer via USB cable.
You should see a message that the power must applied to the motherboard, therefore, connect the adapter to the DC jack motherboard.
Again, click Setup -> Post Code Read to open the Post Code dialog showing the laptop board code and device Id.
Click the button POST start, you will see the sequence number and the Post Code update.
That's it.
Buy SVOD?
https://www.leakymosfet.com/products/svod3-programmer
Reference:
https://www.youtube.com/watch?v=IqU9L5cxyfM
Note:
This is a work in progress and may contain inaccurate information
---
Also in News
 Seasoned repair technicians started from very little knowledge and evolved into what they are now. If you are planning to take this path as a part-time or full-time profession, there are few things that you need to keep in mind to get you started on the journey towards becoming a successful laptop repair technician.
Here is a quick guide to put the Canon printer into service mode.